Welcome to Winnipeg Deals Blog!
I've been asked by several people how Winnipeg Deals Blog came to be, so I thought this would be the perfect place to tell my story. I'm a simple guy really – I love the winter, all things car-related, golf and video games. But my biggest passion is deals.
I can't get enough of them. They're irresistible to me. Half off for a bag of rocks? Yes, please!
If it were an Olympic sport, I'd be the Michael Phelps of deal hunting. My friends and family have always known me to be a deal hunter, and I've always shared with them the best deals I could find by either calling them or emailing them. But one day I figured, why not share my passion with the world? Because let's be real here, who doesn't love deals?
So I did. And that, my friends, is how Winnipeg Deals Blog was born. It started off small, but apparently I'm not the only one who has a hunger for discounts. It's exploded in popularity since – it's even been featured recently on Global News TV!
Truth be told, it's been a blessing and a curse because some of these deals are just too good to pass up which has ultimately burned a hole in my wallet, but it's been worth every penny. I've taken advantage of many of the deals myself – my favourites being restaurants, spas and cleaning/maid service deals.
What I love personally about these deals (other than the discounts of course) is that you get to experience new products and services that you never would have before. And for the really great deals, you can stock up on the vouchers as many of them don't expire for a full year or even at all. I know there's been a few deals that I regret not purchasing more of but believe me, I won't be making that mistake again.
Anyways, if you're looking for a simple way to check out all the amazing deals, check back here each day and sign up for my mailing list so you don't ever miss a hot deal!
Thanks and I hope you enjoy Winnipeg Deals Blog.
-Raymond Lau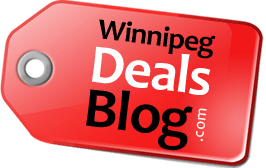 What Winnipeg Deals Blog is all about!
Every day, I scour the city to find Winnipeg's hottest deals. Then, I post them all on here so you can take advantage of some amazing discounts! As you probably know, there are many discount sites out there, such as Groupon and Dealfind, that are becoming exponentially popular. In fact, Forbes recently called Groupon the "fastest growing company ever". Google also recently offered to buy Groupon for $6B…which Groupon turned down! Amazon's recent $175M investment into Living Social, another localized deals site, is another example of how popular these sites are becoming and how an increasing number of people are taking advantage of these incredible deals. But that shouldn't be a surprise – they typically offer deals that are 50-95% off!
With so many deals sites out there now, it's hard to keep track of them all. But thanks to Winnipeg Deals Blog, life is easy!
I take all of the deals relevant to you and post them here every morning. All you have to do is take a look and see what piques your interest. You can shop and compare prices, see which deals are hot and best of all, save a ton of money! If you haven't jumped on the deals bandwagon yet, it's not too late. Don't miss out on these incredible savings – start visiting Winnipeg Deals Blog to see which deals are great for you.
And don't forget, joining my mailing list doesn't just make it easy for you to see what the best deals are, it also frees up your inbox too. Instead of receiving a daily email from every discount site out there, you can unsubscribe to them and simply view the single email from Winnipeg Deals Blog where all the deals are consolidated for your convenience! I encourage you to share this with your friends and family so everyone can save money and enjoy the deals together.
Also, be sure to check back often – I have a lot of new upgrades planned for the site and I'll also be giving away tons of great prizes in the near future. You'll be automatically entered into every draw and contest if you're signed up for my mailing list.
So what are you waiting for? Sign up for my mailing list now and start saving some cash!
(Ps: To unsubscribe from all the daily emails from other discount sites, simply click on unsubscribe at the bottom of that site's particular email)